Product features
Infinitely variable table heights from 84 to 126 cm - 42 cm stroke
Table top can be lifted upto 85°. Spring assisted, comfortable handling set back possible from any position
Quick adjustment (S) - one hand lever opens and locks the height adjustment - optionally with quick-action-crank (K), electricpowered adjustment (E) - drives dependant on design.
Keyboard pull-out comes out partly or completely (optional). The pull-out is adjustable in height.
Monitor panel separately adjustable from 0 to -25 cm in relation to the desk top - with crank infinitely adjustable - infinitely adjustable tilt angle of +5° to -20 ° in relation to top
Total weight (counter) balance for table top - can be regulated* up to 60 pound, depending on size of board or hardware - easy handling with crank
Space between feet of rack: 108 or 142 cm - depending on size of table
Table sizes on demand of customer
Decor of plate: grey or beech décor
Rack powder-coated, light-grey RAL 7035 - lifting frame is black RAL 9005
4 adjustable screw feet, for uneven grounds - castors optional see »Equipment
Studio table ergo M7-3
for professional music production:
in studio or on stage.
ergo M73 Studio for professional and creative dynamic studio work.
Inclinable board for notes and papers.
"Keyboard right at hand"
Safe and secur all items, instuments or computer go up and down - just as you need it.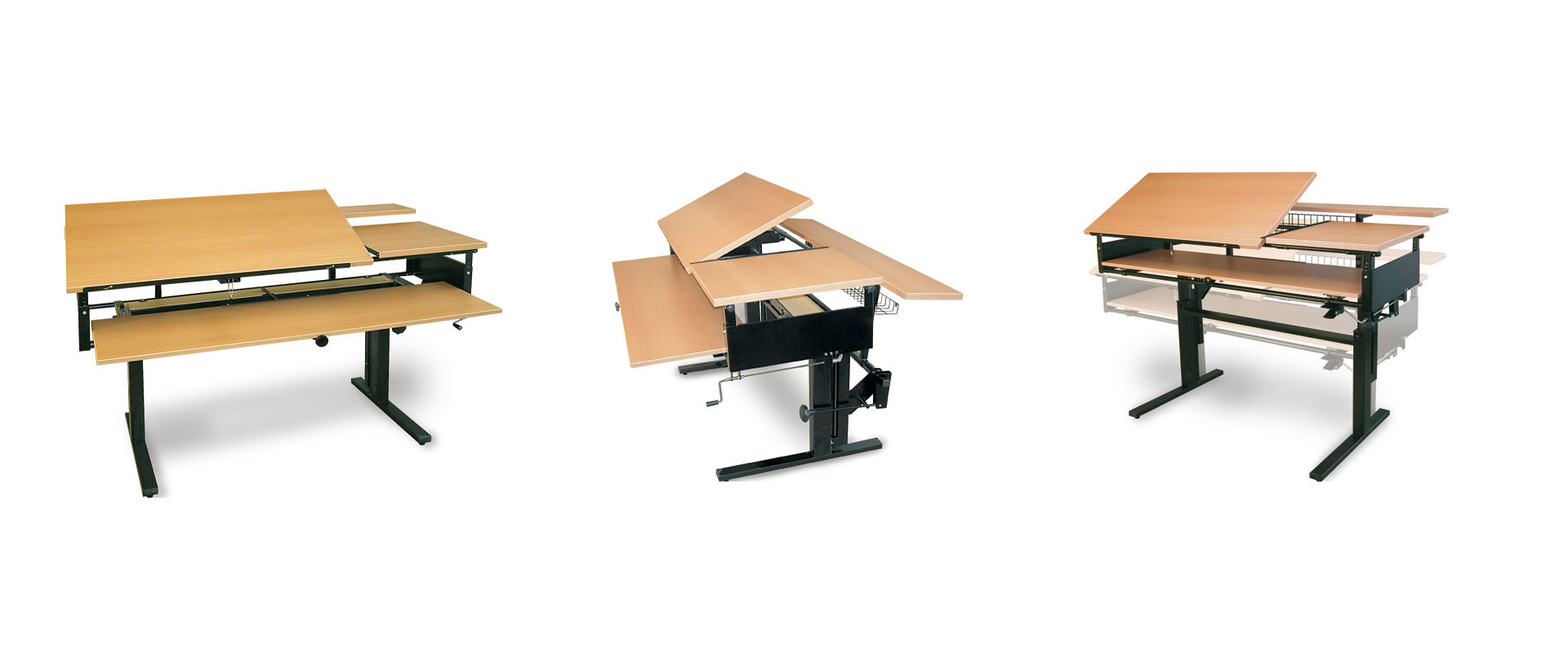 Professional studio equipment
Derifed from our most advanced versatile product, the ergo M7, this studio equipment was developed together with professional musicians.

The proven advantages of our ergo-desks, such as the activation of musculature and intervertebral discs can also be of help at creative situations.