Product features ergo M7-1
Infinitely adjustable table heights:
ergo M1 50 - from ca. 50 to 75 cm - 25 cm stroke (Childrens table)
ergo M1 68 - from ca. 68 to 112 cm - 44 cm stroke
ergo M1 72 - from ca. 72 to 120 cm - 48 cm stroke (optional)
Quick adjustment (S) one hand lever opens and locks the height adjustment. Optionally with quick-action-crank (K) or electric powered adjustment (E).
Height adjustment smooth running with ball bearings. No accidental declining.
The front table top is fixed, ie. without inclination of plate.
Monitor panel separately adjustable from 0 to -27 cm in relation to the desk top - with crank infinitely adjustable (or alternatively per notching in 28 mm steps)
Plus: Monitor panel has infinitely adjustable tilt angle of +5° to -20 ° - in relation to flat desk top
Balanced counterweight for table top - can be regulated up to 60 pound, depending on size of board or hardware - easy handling with crank.
Space between feet of rack: 81, 108 or 142 cm - depending on size of table.
Table sizes see chart below
Decor of plate: gray or beech décor
Rack powder-coated, light grey - RAL 7035 or black. The lifting frame is always black - RAL 9005
4 adjustable screw feet, for uneven grounds - castors optional - see »Equipment
Two desk top levels
The Moeckel Sit Stand-on desk ergo M7 is an easy height adjustable table with two plates .
The rear plate is designed as separatly adjustable monitor level.

Smooth and save all items and hardware glide up and down. The ergo M6 is offered with three starting heights: 50, 68 or 72 cm.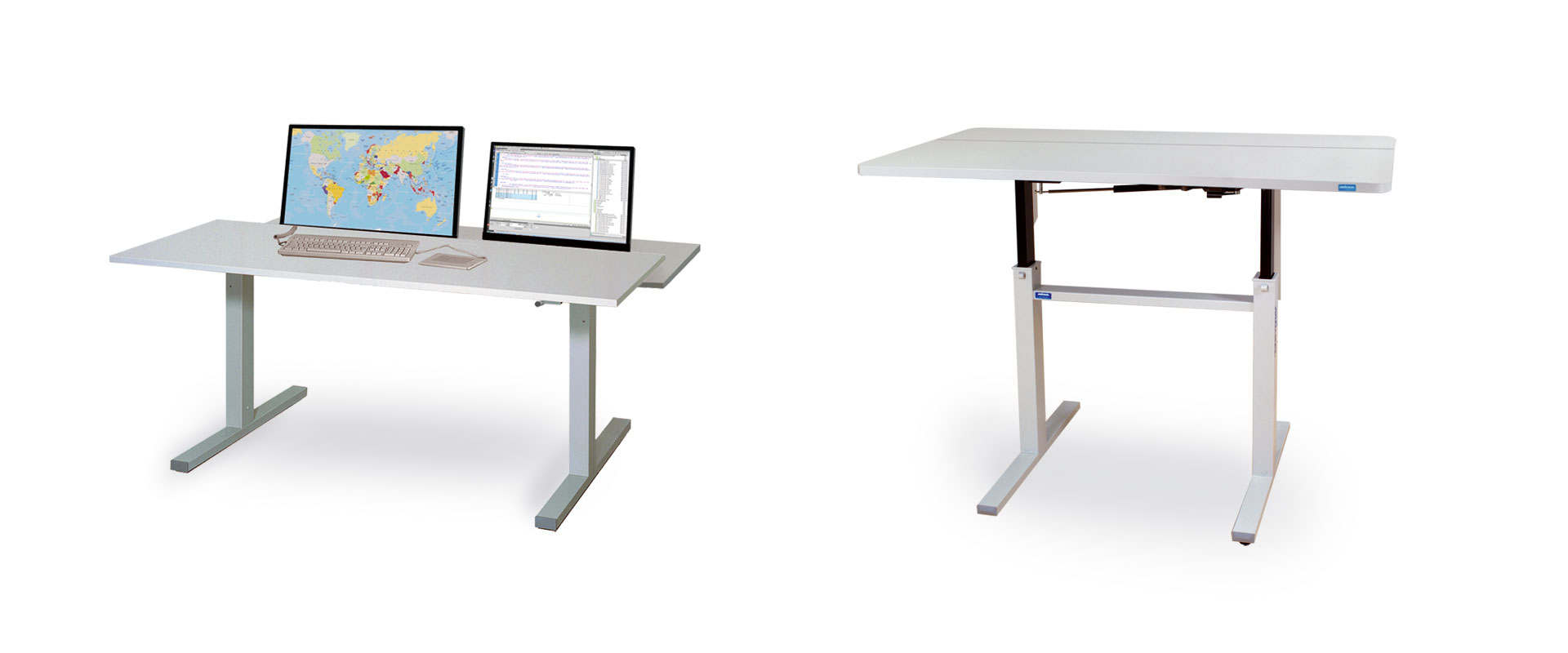 The desk for professionals
"Work station" for professional CAD.
The 7-series offers a separatly adjustable second table top for monitors and other devices.