Product features
Infinitely variable table heights
ergo M2 50 - from ca. 50 to 75 cm - 25 cm stroke (Childrens table)
ergo M2 68 - from ca. 68 to 112 cm - 44 cm stroke
ergo M2 72 - from ca. 72 to 120 cm - 48 cm stroke (optional)
Stepless inclination of top from 0° to 85° - sturdy desk-top positions - easy handling
Quick adjustment (S) one hand lever opens and locks the height adjustment. Optionally with quick-action-crank (K) or electric powered adjustment (E).
Height adjustment over double-chain drive - no accidental declining of desk top, smooth run with ball bearings.
Total weight balance for table top - can be regulated* up to 60 pound, depending on size of board or hardware - easy handling with crank* (* not with 60 cm rack)
Space between feet of rack: 60*, 81, 108 or 142 cm - depending on size of table
Table sizes see chart below
Decor of plate: gray or beech décor
Rack powder-coated, light grey - RAL 7035 or black. The lifting frame is always black - RAL 9005
4 adjustable screw feet, for uneven grounds - castors optional - see »Equipment
ergo M2 50, 68 or 72 R
Sit stand-on table
Quick adjustment for easy changing working positiones - for better health.
The ergo M2 R is a true sit-stand table that gives back some of the action the muscles and discs need.
Smooth and save all items and hardware glide up and down.
The ergo M2 R is offered with three starting heights: 50 cm as a children's table, 68 cm is the normal height and optionally with 72 cm.
Please see also: ergo M2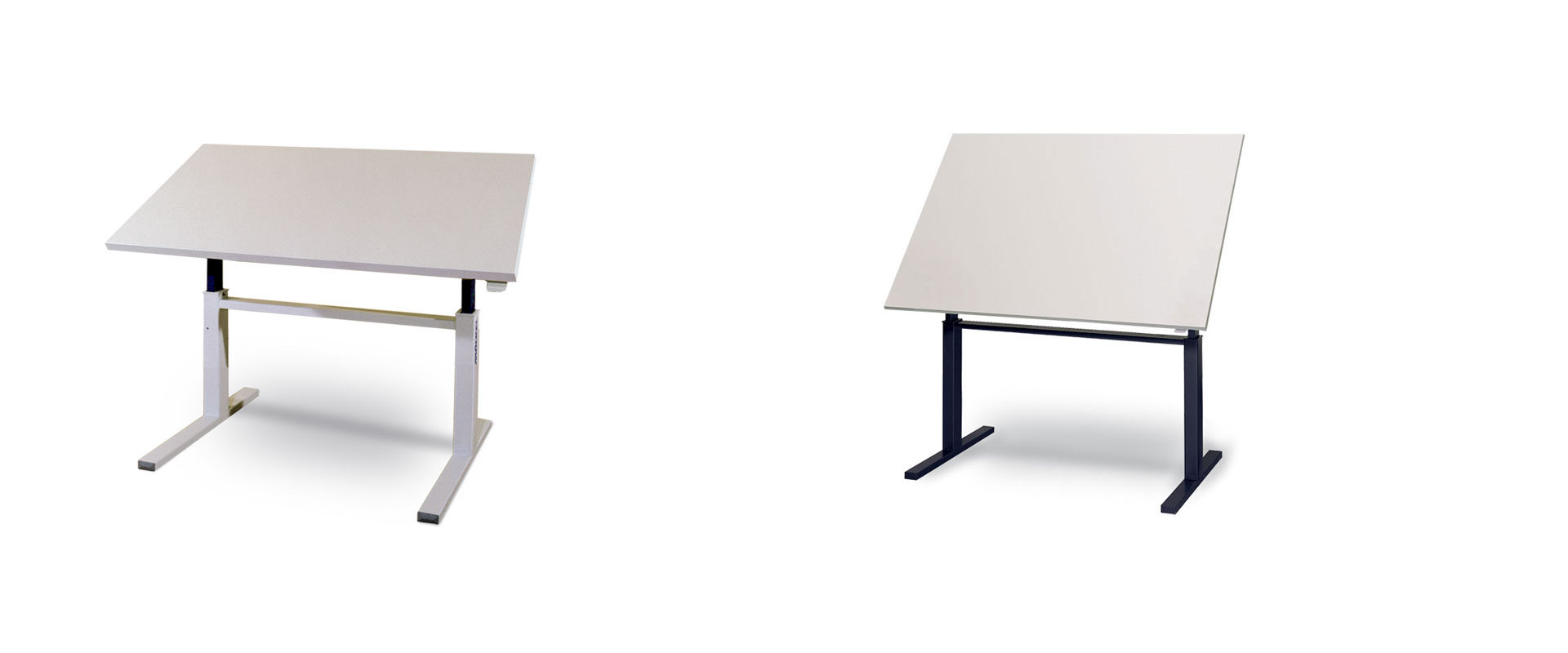 For creative people
Besides the smooth gliding elevation of the table top the M2's additional feature is a quick and easy inclination of table top.For creative moments as drawing or drafting table.
The Letter "R"
indicates that this table is suitable for wheelchairs. It is robust and simple to handle. All functions are easily adjusted with just one hand lever.

["R" like in "Rollstuhlunterfahrbar". This wonderfully composed word twists even german tongues ;-) ]