Product features
50 cm stroke with flat position
Infinitely variable height adjustment of support from ca. 54 to 104 cm* for the lower rest. *Max. height depends on the selected weight balance (Tolerance in stroke +/- 10 mm)
One hand lever as crank opens and locks the multi-disc brake for height adjustment. (The hand lever can alternativly be mounted left)
Sturdy desk-top positions - easy handling
Total weight balance for rack top through gas spring. The counterbalance can be regulated at any time by infinetely variable lift regulation, to max. 25 kg with easy adjustment by crank - optional to max. 50kg (possible other weight of equipment please give in Kg ).
Second keyboard level adjustable in 6 steps á 32 mm plus 160 mm possible height adjustment at 90°, 75°, 60° angle of inclination.
Horizontal crossmenber for aditional fixes e.g. a music stand, microphone, speakers, screens or cable etc.
Space between feet of rack: 72 cm
Rack powder-coated, light-grey RAL 7035 or black RAL 9005 (tube profil 30 x 60 mm).
4 adjustable screw feet, for uneven grounds - castors optional see »Equipment
Keyboard Rack ergo P7 K
for professional music production:
in studio or on stage.
Variable angles of upper rack
-"keyboards right at hand"
Sturdy and safe all your instuments note-sheets, etc. elevate from sitting- to standing hight..
MOECKEL ergo P7 for ergonomic good and healthy working conditions.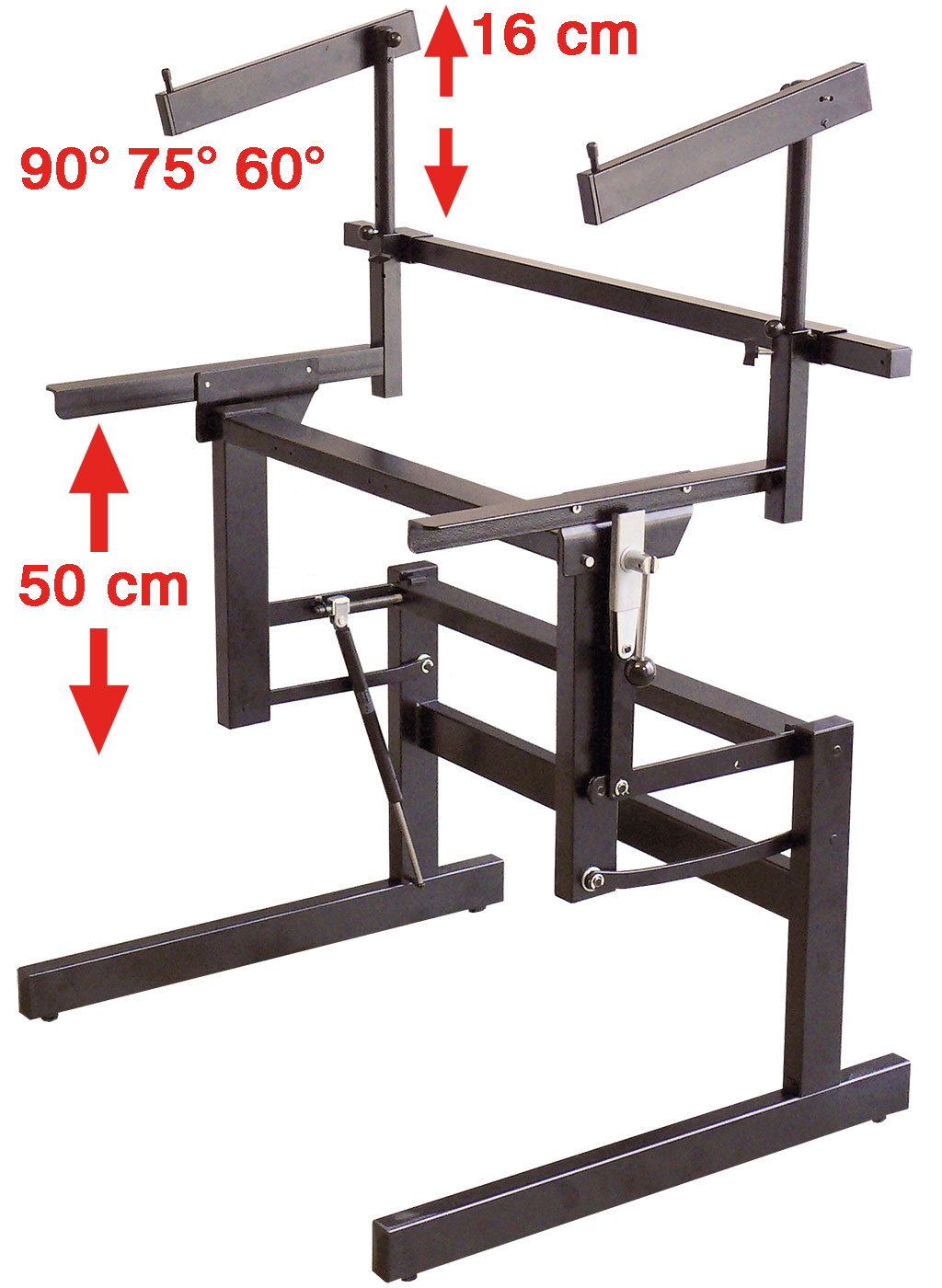 ergo P7 - studio rack
Derifed from our most versatile product, the ergo P3, the keyboard rack was developed together with musicians.

The proven advantages of our ergo-desks, such as the activation of musculature and intervertebral discs can also be of help at creative situations.